Of course
I'm a huge fan of Taylor
and yes I admit that I was so obsessed with her!!
I've seen quite a few people doing this recently and I've decided to have a look at it myself. I found it on tumblr,
here
..
1.THE FIRST TAYLOR SWIFT SONG YOU HEARD:
Love Story.
2.WHEN YOU BECAME A TAYLOR SWIFT FAN:
2 years ago (2009)
3.YOUR FAVORITE TAYLOR SWIFT SONG:
I have 4 : Sparks Fly, Long Live, White Horse, Breathe. I can't choose 1! >,<

4.YOUR FAVORITE TAYLOR SWIFT MUSIC VIDEO:
You Belong With Me.

5.NUMBER OF TAYLOR SWIFT CONCERTS YOU'VE BEEN TO:
None :( I wish she'll come to Indonesia :((

6.YOUR FAVORITE TAYLOR SWIFT PERFORMANCE:
Should've Said No at the ACM's in 2008.
7.YOUR FAVORITE TUMBLR PAGE/S OF TAYLOR SWIFT:

http://tswiftdaily.tumblr.com/
8.THE TAYLOR SWIFT SONG THAT YOU MOST RELATE TO:
The Story Of Us & Tell Me Why.

9.YOUR FAVORITE TAYLOR SWIFT PICTURE: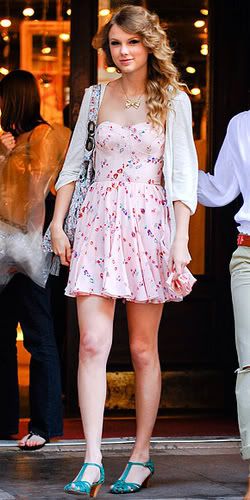 Love her smile :)

10.SOMETHING THAT YOU MISS ABOUT TAYLOR SWIFT:
Her more country songs.
11.YOUR FAVORITE TAYLOR SWIFT LYRIC:
"If you have children some day, when they point to the pictures, please tell them my name, tell them how the crowds went wild, tell them how I hope they shine".
12.YOUR FAVORITE VIDEO OF TAYLOR SWIFT ON YOUTUBE:
13.YOUR FAVORITE TAYLOR SWIFT ALBUM:
Fearless.

14,HAVE YOU MET TAYLOR SWIFT?:
No :( but someday I will!

15.YOUR LEAST FAVORITE TAYLOR SWIFT SONG:
Breathe.
16.YOUR FAVORITE TAYLOR SWIFT MAGAZINE COVER: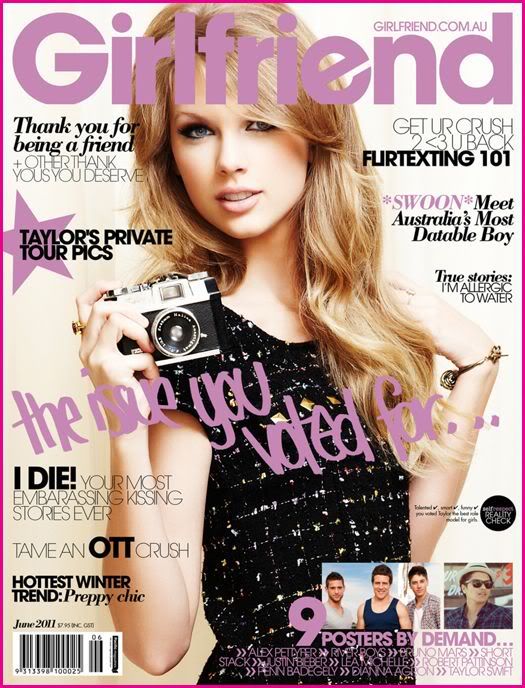 17.A TAYLOR SWIFT SONG THAT YOU WISH HAD A MUSIC VIDEO:
Long Live.
18.WHO WOULD YOU WANT TO DO A DUET WITH TAYLOR SWIFT:
Adam Young :D

19.A TAYLOR SWIFT SONG THAT YOU WOULD LOVE TO HEAR LIVE:
Speak Now.

20.FAVORITE TAYLOR SWIFT QUOTE:
"Fearless is getting up and fighting for what you want again and again every though everytime you've tried before, you've lost. It's fearless to have faith that someday things will change"
21.SOMETHING TAYLOR SWIFT RELATED THAT YOU'RE EXCITED ABOUT:
Speak Now tour in Indonesia and next music video.

22.A TAYLOR SWIFT SONG THAT YOU CAN PLAY/WISH TO PLAY ON AN INSTRUMENT:
I wish I could play The Story Of Us.
23.FIVE THINGS YOU LOVE ABOUT TAYLOR SWIFT:
Her songs, her talent, her voice, her smile, her sense of humour, basically everything!!
24.WHICH DO YOU PREFER: TAYLOR SWIFT'S BLOG, VLOGS, OR TWEETS:
Vlogs.
25.DO YOU OWN ANY TAYLOR SWIFT MERCHANDISE?:
Unfortunately no, they don't sell things like that in Indonesia :(

26.YOUR FAVORITE TAYLOR SWIFT MYSPACE VLOG:
I don't have myspace, but all of her vlogs are awesome!

27.THE TAYLOR SWIFT SONG THAT YOU NEVER GET TIRED OF HEARING:
Long Live.

28.HOW TAYLOR SWIFT HAS INFLUENCED YOUR LIFE:
She makes me want to be a better person in every way & has taught me so many good life lessons.

29.POST ANYTHING THAT INVOLVES TAYLOR SWIFT:
I love her so much & I'll love her forever ♥
30.IF YOU COULD SAY ANYTHING TO TAYLOR SWIFT, WHAT WOULD IT BE?:
Taylor, you're an amazing person and you're my inspiration. Please don't ever change. Even though we've never met before, but I love you more than words 'cause you've helped me indirectly and you've changed my life. Thank you so much! :')